Orak Engineering Talks About DeskGod
---

Krasimir Stoyanov
Chief Executive Officer
Orak Engineering Inc.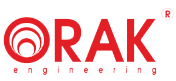 "We've seen more than 500% return on our DeskGod investment in the last year."
---
Identifying high quality leads yielded an 80% close rate on their inbound leads
The ability to instantly engage with their website visitors
More effective sales and marketing cooperation
More targeted marketing campaigns led to higher conversion rates
---
Challenge: Losing leads from marketing inefficiency is not an option for Orak Engineering, which provides the nations leading software in the Hospitality and Retail Management Industry. With Clients such as Adidas, M-Tel and Siemens they make little time for error. Orak is intimately familiar with almost every campaign monitoring and traffic analytics tool available after 3 years of working with many of them. The challenge was to identify what campaigns are the driving force behind client engagement, and having the features needed to engage immediately, both from one place. Business intelligence and instant action is what a fast moving company needs.
---
Solution: Orak Engineering utilized its superior management expertise and the flexibility and usability of DeskGod's service to strategically target their marketing campaigns to segmented visitor types, engaging with each interest quickly and the email feature to set rules for each user interaction. DeskGod Customer Profile gives a live look into your clients and their interactions, find exactly what grabs them. Orak Engineering wins valuable insight into their prospects' intentions to convert those prospects into satisfied, long-term clients.
---
Benefits: Because Orak Engineering is now able to monitor prospects in real-time, their Sales and Marketing team works in unison with improved prospect insight, instant relative engagement and immediate interaction all in real-time. In just 30 days, after adopting DeskGod, Orak's marketing team has real-time analytics that now really help develop their marketing campaigns. At the same time sales delivers instant, targeted content to prospects through live chat. DeskGod services gained Orak a 200% rise in revenue in that short time and over 500% return on investment in less than a year.