ROI Reports provide marketing data from the sales perspective.
"Half the money I spend on advertising is wasted; the trouble is I don't know which half."
DeskGod ROI Reports give web-sales teams' full understanding of what is happening on the web-sales funnel. So now they can improve the process and increase sales by knowing what the sticking point of the web-sale is.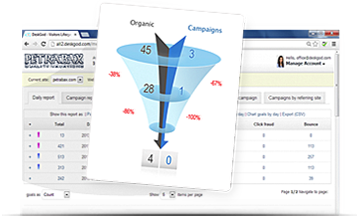 See the map from a longer distance.
With ROI Reports your web-sales teams have a broader view. They know which marketing campaigns are bringing sales ready leads and which campaigns bring leads that need to be nurtured before closing a sale. On the flipside, ROI Reports shows also which campaigns are not generating good leads.
With DeskGod, we've been able to get more aggressive and analytical with our sales approach.
Every month we launch several online campaigns across numerous vertical markets globally.
We track their progress and justify the campaigns that pay off, and marketing adjusts its focus accordingly.
— Deniss Interactive
With ROI Reports you will:
Track visitors during their whole stay on your website. This allows you to analyze visitors overall behavior and whether they reach your primary goals such as registration, payment, or visiting specific pages.
Be able to decide on which campaigns are the most effective, so that you can focus on them with proven and measured results and stop the ineffective campaigns.
Reduce costs and optimize conversion rate.