Smart Lead Tracking
To track an individual
You can start tracking your visitors' activity on your website; know their names, emails, companies and much more. No more guessing if a lead is hot or not!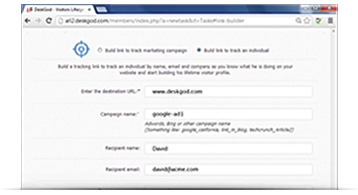 Once you send this link to a person DeskGod will automatically create his Dossier where all his future visits will be stored. It doesn't matter where the visitor is coming from his activities will be added to his dossier.
That means even if the person comes from Google Search or manually types the web-address his information will still be tracked and you will know exactly who he is.
Track Marketing campaigns
The link builder allows you to track the success of marketing campaigns. Just use links created in DeskGod with Google Adwords, or in an article and you will know who follows the link and reaches your website revenue goals.
As a business developer I am responsible finding new partners.
DeskGod technology allows me to observe my prospects behavior on my site in real time and know their level of interest. This helped me start closing 2 times more partnerships while spending the same amount of time.
— Devil Apps
Main features:
Track multiple and individual marketing campaigns.
Track individual sales leads by name, email, company and more.
Easy to use, click of a button functionality
Visitor activity on your site is tracked for six months