Reduce time for customer request processing using predefined answers.
Help Desk has an integrated customer ticket support system designed for managing customer requests from your websites and supervising your online sales and customer support staff.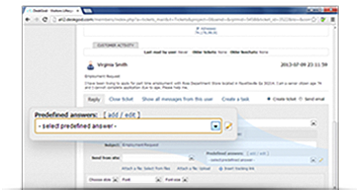 Customer Request Management tool that enables you to provide Help Desk services to your website visitors and members. Empowered with Predefined answers and other handy resources.
360 Degree of visitor
A 360-degree view allows companies to be 2 times more effective doing their every day job. It combines the customer's dossier with all their activity and customer correspondence on the same page. This reduces the time spent on making a decision of what to reply by giving you all the relevant information in one place.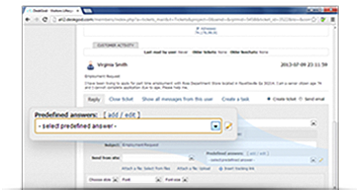 "Due to the 360° Customer View that the DeskGod Help Desk has in place, support requests are dealt 4 times more quickly and professionally."
- Carole Thorne,
Leopard Electronics
Main features of Help Desk include:
100% No SPAM
360° View of the customer
Predefined answers and other time saving resources
Email customers and partners using templates
Document management and storage for all customer request records (pictures, screenshots, docs, etc.)
Correspondence and issue tracking
Customizable layouts for ticket form and knowledge base
Task assignment and management dashboard
The ability to distribute customer requests by department